Thread selection for Lee Squiggles painted canvas
Thread Selection For Lee Squiggles Painted Needlepoint Canvas
A needlepoint design
Stitched by Jeanne Becker for Lee's Needle Art
Lee's Needle Art offers needlepoint painted canvases AND the leather goods for finishing your projects. Here we feature one of Lee's designs, a fun geometric brought to life with sparkling Kreinik holographic metallic threads. The project is small so it stitches up quickly and the jewelry box for finishing makes a great gift or personal accessory. This stitch guide is by Jeanne Becker.

Materials needed:
Painted Canvas BB34 Squiggles by Lee's Needleart
Jewelry box by Lee's Needleart
Kreinik Tapestry #12 Braid in holographic colors 007L, 008L, 015L, 024L, 029L (now discontinued, use color 029), 031L (now discontinued, use color 031)
Kreinik Silk Mori in colors 1047, 2033, 4036, 4196, 1043
Instructions:
Using the photographs below and colors of the canvas as a guide, stitch the design using the Kreinik metallic and silk threads in tent or continental stitches. When stitching is complete, block canvas if necessary. Insert design into the purchased jewelry box following manufacturers' directions.

Lee's Needle Art canvases and leather goods are available in needlework stores.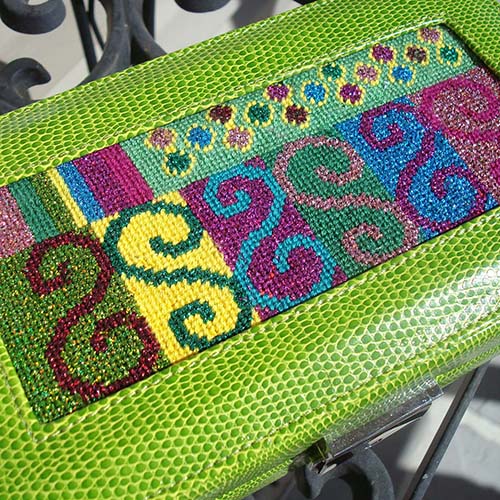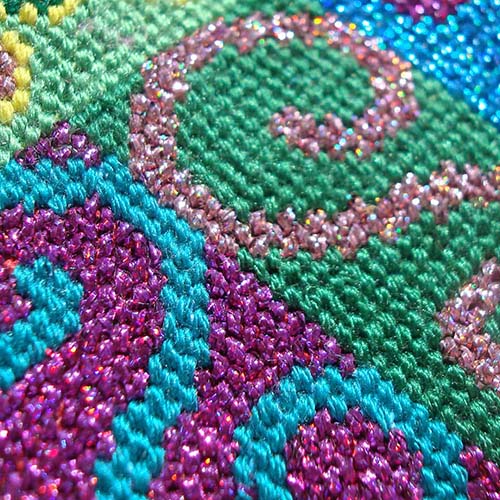 Would this product be useful in your business (ie, manufacturing, teaching, retail)? If so, you could benefit from bulk quantities at wholesale pricing. To open a wholesale account, we require a copy of your business license on file. Send a copy along with your business name and contact info to:
Kreinik Customer Service Department, 1708 Gihon Road, Parkersburg, WV 26101 USA
or fax it to 304-428-4326
Related products