Shopowner/Retailer Information
This section is dedicated to our shopowners to give them tips and information about Kreinik products and services.
***
FEBRUARY 2023
High demand for product combined with supply, production, and staffing limitations means that it is taking longer than normal to get your Kreinik orders. IN SOME CASES, IT MAY TAKE 10 WEEKS TO FILL ORDERS. We are working hard to speed up production and apologize for the delay. We greatly appreciate your business and your understanding.
We cannot do rush orders

Orders for

class

materials MUST be placed

SIX TO EIGHT WEEKS

in advance

and sent to us on a SEPARATE ORDER (separate from your store stock order)
We are not doing back orders right now.
***
Accounts & Information
Ideas To Increase Sales
---
Setting Up a Kreinik Account
As a manufacturer selling in a wholesale environment, we have established the following criteria for purchasing directly from Kreinik and/or receiving any pricing information:
1. If in the North America, the first step is to call us at 304-422-8900 (office hours are 8 a.m. to 5 p.m. Eastern Standard Time, USA) for a brief interview. For international customers, go to step 2.
2. The second step is to email (orders@kreinik.com), fax (304-428-4326), or mail (Kreinik Mfg. Co., Inc. Attn: Customer Service, PO Box 1966, Parkersburg WV 26102 USA) us the following:
· A copy of your business license
· A copy of your state sales registration
· A copy of your business card
· Website or Facebook site
· A copy of your listing in an applicable resource such as telephone directory, community paper, etc.
· Your name, shop billing & shipping addresses, email address, and a telephone number
3. When we receive this information, we will open an account for you and discuss payment options: COD, prepaid, or credit card (Mastercard, Visa), whichever you prefer. We will also send you a credit application if you want to establish terms.
4. MINIMUM ORDERS: Your first order must be a minimum of one hundred U.S. dollars ($100.00), and thereafter, we require a minimum of fifty U.S. dollars ($50.00) per order.
Please feel free to contact a Customer Service Representative at 304-422-8900 if you have any questions about our products or about establishing an account.

Top Of Page
---

Ordering From Kreinik
In an effort to help you organize your Kreinik thread and accessory orders, the Customer Service Department has compiled the following list of steps that will be helpful in placing a correct order.

1. Write down your order, listing the threads by type (i.e. BF, #4, #8, Silk Mori®, Jaceron) before calling.

2. When you call, be prepared to give the following information:
Name Of Shop
Zip Code of Shop or Account Number
Telephone Number
Ship-to Address if different than billing
How you want the order to be shipped (rush, airmail, regular, etc.)
3. Identify the first type of thread you want to order: Blending Filament, Cord, Cable, Braid, Ribbon, Silk Mori®, Silk Serica®, etc.

4. Indicate if you want "blister packs" or "bulk packs" when ordering metallic threads. Specify which size skein or reel you need when ordering silk threads.

5. State the quantity and size (in meters) you want. Check the price list for specifics.

6. Give the color numbers.

7. Continue your order in this way until completed.

In order to avoid any confusion, put your SHOP NAME AND SHOP ADDRESS on your order. Some shops have the same names, so we need to know your location as well as name. We strive to deliver an accurate order promptly to your shop. As always, if you have any questions, call Customer Service at 1-800-624-1928. You can also fax your order to (304) 428-4326 or you can send them to us via email at orders@kreinik.com .



Top Of Page
---
Kreinik Distributors
In the table below is a listing of authorized distributors that carry Kreinik's products.
USA

Fleur De Paris
8255 Beverly Blvd.
Los Angeles, CA 90048
800-221-6453 (toll-free)
323-658-5857 (local)
323-658-5840 (fax)
Website: www.fleurdeparis.com


USA

Wichelt Imports
RR#1, Hwy. 35
Stoddard, WI 54658
608-788-4600
Fax: 608-788-6040



Canada

Hook & Hackle Canada
Box 625 Okotoks, Alberta, Canada T1S 1A7 phone: 403-995-9551
Canada N1E 6V1
Phone 519-766-1388
Boreal North Wholesale LTD.
113 Honeysuckle Way Fort McMurray,
Alberta Canada T9K 0M7
Email: sales@borealnorthwholesale.ca Office: 780-800-5342 www.borealnorthwholesale.ca
Australia



SSS Sewing & Craft Supplies

SSS Pty Limited - Head Office

16-18 Valediction Rd, Kings Park NSW 2148, Australia

+61 2 9672 3888 7

+61 2 9831 6088

Benelux

The Stitch Company
Nieuwstraat 6, 4264 RE Veen
Netherlands
31 416 695 070
Fax: 31 416 695 071
www.stitchcompany.com
e-mail: info@stitchcompany.com
China

SHANGHAI YUJUN CO., LTD. |
ADD:RM 701,NO.175 YAN'AN(E) ROAD SHANGHAI CHINA 200003
TEL:+86-21-63739785;
63739786; 63739787
FAX:+86-21-63739838 www.dmschina.com
E-MAIL: jessechang@vip.163.com





Japan

Kayo-Sha Co. LTD.
35 Yarai-Cho
Shinjuku, Tokyo, 162-0805 Japan
Phone: 81 3 3260 4065
Fax: 81 3 3260 4067
Email: mail@kayo-sha.com
Korea

Art Sipjasu Inc.
108-1403 ChungGu-Apt.
734 Banghakdong DobongGu,
Seoul, Korea
Phone: 011 82 234 914479
Fax: 011 82 234 924479
E-mail: sipjasu@hanmail.net

Russia

Gela Ltd.
141400, Vladenije 13B, Vashutinskoje shosse
Chimki, Moscow area, Russia
Phone: +7(495)742-50-43
Website: www.gela.ru
E-mail: gela@gela.ru

Top Of Page
---
Trade Show Schedule
Want to learn more about Kreinik products? Need a help with a project? Want to suggest a new product? Meet with us at a trade show! The big buy in the middle, that's Doug Kreinik, owner of Kreinik Mfg. Co. He travels to all of our tradeshows and loves to share his knowledge & love for threads and creativity.

2023 Show and Events Schedule
March: Nashville Needlework Market
March: Spring Needlepoint Trade Show
October: Autumn Needlepoint Reunion

Top Of Page
---
Kreinik Order Form
You will need Microsoft Excel to use this document. Both metallic and silk lines are included in one document (one sheet for metallics, one sheet for silks within the Excel document). Click HERE to download/access.

Top Of Page
---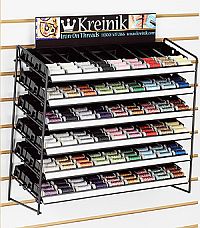 Display Racks
Kreinik Gravity Rack
This exciting new display is perfect for shops selling loose spools of Kreinik Metallic Threads, Silk Serica® or Silk
Bella™. The New Kreinik Gravity Rack is lightweight, inexpensive & easy to assemble. The unit has 6 levels, comprised of 18 trays that have 3 product slots each. That's a total 54 slots for your SKU's. This stylish unit allows the colors of the Kreinik Threads in them to be seen from a distance, and the gravity feed system self merchandises the spools when a spool is removed.

The display can be stacked, hooked on a pegboard or slatwall display, or used as a countertop unit. A white cardboard strip is included for each level so you can use labels to identify the Kreinik colors displayed in your unit. The trays can be easily removed to allow for inventory and restocking.

Each Gravity Rack comes with a full color sign. You can specify if you want a Metallic, Silk or Iron-On Thread Sign. The display dimensions are 21 1/2" w x 18" h x 7" deep.

Top Of Page
---
Kreinik Planograms & Display Labels
We've made setting up your gravity rack easier. Call us at 304-422-8900 to request labels.
Tassell Ring and Color Cards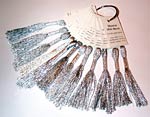 This is a great sales tool to let your customers feel and see the difference between Kreinik's Blending Filament, Braids, Ribbons, Cord, Cable and Ombre. The Metallic Tassel Ring helps your customers easily choose the appropriate thread for their projects and collections. Whether you sell blister packs or bulk reels, keep the tassel ring near the Kreinik display in your store. It's also a great reference tool for designers and teachers.
We also recommend that you keep a Kreinik Metallic Color Card and Kreinik Silk Thread Color Card in your shop for quick reference. Helpful when a customer requests a color you may not have in stock, or wants to customize a design and change colors.

Top Of Page
---
Classes

Ordering Supplies for Classes
Send as a separate order (separate from regular store stock order) and indicate WHEN the class is scheduled

Send your order at least SIX weeks in advance

We cannot do rush orders
If you know that you'll be teaching a particular project several times throughout the year please notify our customer service department. You can order materials on an as-needed basis but at least we will be able to reserve particular quantities for dye lot consistency.

Top Of Page
---

Special Orders - An "Ace Up The Sleeve."

In our day-to-day business, we understand that it is all we can do to keep up with the inventory, find space for new product and still be able to service our customers and let them know they are the most important part of our day. (Thank goodness for customers!)

How many of you have had to say to your customers "We don't carry that," or "We do not stock that color?" If you have said this, you have lost a sale which is something you cannot ever afford to do. Fortunately, retailers have "An Ace Up Their Sleeves" which allows them to increase sales and more importantly, service the customers without added expense!! Some retailers already use this business technique while others do not. This "Ace Up The Sleeve" is to "SPECIAL ORDER" select products.

There are several ways to successfully utilize "SPECIAL ORDERS" without any risk of accumulating merchandise that you do not currently carry.

(1) Make your customers aware that you will "SPECIAL ORDER" with certain guidelines.

(2) Always require a non-refundable deposit for at least 50% of the retail value of the goods. This policy requirement protects you if the customer fails to return to the store to pick up their order.

(3) Advertise this service to your customers. Inform them how easy it is for you to get the products they want by simply giving you advance notice.

(4) Under normal circumstances, "SPECIAL ORDERS" are considered difficult to order because of minimum order requirements. This is simplified by adding them to your normal store inventory orders. However, for customers who already purchase from Kreinik we offer a very low minimum reorder of $50.00.

Take a few minutes to consider the pros and cons of "SPECIAL ORDERS". We think you will find that the rewards of keeping happy customers will far outweigh any reluctance to make your shop the most frequently visited by the ever searching consumer who needs a product that requires a special order.

Top Of Page