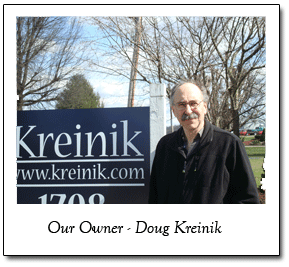 Here at Kreinik, we're all about thread. It is a family-owned business that started in Jerry and Estelle Kreinik's home in early 1970s. Estelle was a needleworker, who basically wanted access to more interesting threads. So they started researching, buying, then making them.
Today Kreinik makes a variety of silk and metallic threads for needleworkers, crafters, scrapbookers, quilters, fiber artists, fly fishermen—even fashion houses—to express their creative selves. So we pretty much always have thread on the brain. It's how we look at the world.
Our manufacturing facility & customer service offices are located in the United States in Parkersburg, WV. We have a staff of creative people that are dedicated to serving you. Retailers click here for more info.
Over the 30+ years that Kreinik has been in business, the company has proudly fed and nourished the crafts and creative industries. We've served on many industry boards, taught hundreds of classes, appeared on numerous television shows, and spun thousands of spools of thread.
Some people call it string, some call it a fiber, we tend to call the thread by braids and ribbons because that's how they are made. But any way you call them, Kreinik threads are fun embellishments that can be used anywhere to make your life more colorful and expressive. Kreinik continues to deliver on a promised commitment: offer quality, affordable products to inspire your handmade creations.
We are members of:
The Alliance for American Quilts
Textile and Fine Arts List (TAFA)
The National Needlearts Association (TNNA)
Craft and Hobby Association (CHA)
American Needlepoint Guild (ANG)
Embroiderers Guild of America (EGA)
Crochet Guild of America (CGOA)
Rotary Fellowship of Quilters & Fiber Artists
Meet some of our staff...