Winter Candle Wrap
Note: This item is not shipped.
Craft and discount stores are full of tempting things this time of year: ribbons, candles, to name just two! We combined them with Kreinik Iron-on Thread to make this decorative band. It was so easy and quick, you may want to make several to give as hostess gifts for the holiday parties on your calendar.
Materials needed:
candle from a discount store
wire ribbon from a craft store (commonly used to make bows on flower arrangements). We used ribbon with a semi-sheer snowflake pattern.
Kreinik Iron-on Medium #16 Braid in 6356 Rain Forest
Mini Craft Iron or home iron
Kreinik Adhesive Press Cloth (small size to fit a mini iron, or large for a home iron)
Kreinik 4" x 6" Treasure Tape, or sewing thread to match your ribbon (for attaching the band to the candle)
Note: if your iron is not Teflon-coated, you will want to use a press cloth between the thread and the iron, or apply a Kreinik Adhesive Press Cloth to your iron (several sizes are available). Apply the Adhesive Press Cloth while your iron is cool and unplugged.
Instructions:
If your iron isn't coated with a non-stick surface, you will want to put the Adhesive Press Cloth on the plate. This keeps the heat-activated adhesive in the thread from sticking to your iron. When your iron is cool, simply peel the backer off the Adhesive Press Cloth and lay it flat on the plate of the iron.
Turn your iron on to high heat and let it heat thoroughly.
Use our "Peace" template, or create your own by typing words on your computer in your choice of fonts. Size it to fit the area you will be decorating on your ribbon.
If you are using a semi-sheer ribbon, lay it over a printed copy of your template, and hold in place with binder clips or paper clips. Use the template as a guide in placing the thread.
To iron the thread: lay the Medium #16 Braid at a starting point on your ribbon, and press with the hot iron for several seconds until the thread adheres. Continue working your design this way, following your template, until the design is complete.
Trim your decorative band to fit around your candle, turning the ends under to create a smooth, non-raveling edge. If you want your candle wrap to be removable, use the sewing thread to simply tack the two ends together at the back of the candle. If you want the wrap to be semi-permanent, use the double-sided Treasure Tape to adhere the ends onto the candle.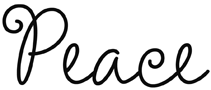 Related products